Our Most Common Repairs for Omega Watches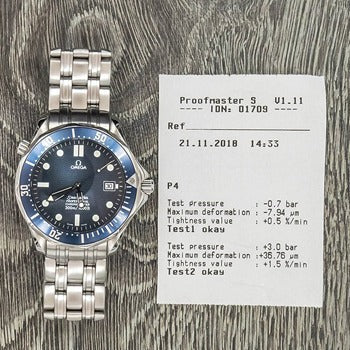 Is your Omega watch having trouble? Or is it due for a regular maintenance visit? At Excel Watch Repair, we can with all your Omega watch service needs. We understand the value that your watch has to you. Here are some of the common repairs we perform on Omega watches:
Crystal Replacement
We can replace the crystal inside your watch with a new one if it's broken. Watch crystals come in three main materials: sapphire (both natural and synthetic), mineral glass, and acrylic. 
Acrylic crystals are less expensive. They scratch easily, and can crack if hit hard enough. The good news is that if the scratches aren't too severe, it's easy enough to buff them out. Mineral glass crystals don't scratch as easily, but they can shatter with sufficient impact. They are the most popular material for crystals. Synthetic sapphire is the hardest of the materials. Crystals made from this material are difficult to scratch. Synthetic sapphire crystals are expensive, and many luxury watches use them, but they are still not completely shatterproof.
Watch Overhaul
Like a car, your Omega watch is a complex piece of machinery that needs regular maintenance to run optimally. At Excel Watch Repair we can check your watch thoroughly and let you know about any minor problems that should be addressed before they escalate into more serious issues.
Movement Service
The movement is the most integral part of your Omega watch. We can professionally clean and oil the movement of your watch, and look after any parts that might be damaged. We can also manufacture parts to match the originals if needed. If your movement needs a complete replacement, we have many movements in stock.
Battery Replacement
At Excel Watch Repair we can replace your Omega watch's battery, and test it properly afterward to make sure it still meets water resistance standards.
Stem and Crown Replacement
It can be tricky to replace the stem and crown of a watch, as they are often specific to that exact watch model. We have the expertise at Excel Watch Repair to do this delicate operation properly.
Clasp and Band Repair
We can adjust the band of your watch if needed, to make it fit your wrist better. 
Hand Repair
We can replace the hands of your watch if they have fallen off or become damaged.
Dial Refinishing
If your Omega watch has a dial that is damaged or looks worn, we can restore it at Excel Watch Repair.
Check and Repair Seals and Gaskets
If your Omega watch has water resistance, we can check the seals and gaskets to make sure they're working properly. It's important to do this every couple of years. If a seal or gasket doesn't work properly, it can let water into the watch, causing costly damage to the insides.
Other Issues
If you have a Seamaster clasp with weak springs that doesn't lock as securely as it should, we can help you correct this. If you have a Seamaster GMT watch where the GMT hand mysteriously loses on hour, we can help with that as well. It's caused by a problem with the gear-train of the mechanism that sets the hand. 
Conclusion
So, there you have it. Those are the most common repairs we do for Omega watches. If your Omega watch needs some careful attention, please contact us at Excel Watch Repair. We are happy to help!